Synergy and chemistry are just as important as expertise when hiring strategic, high-level positions within a startup, said A.J. Mellott.
"Ronawk has gone from this startup with its organized chaos, to having structured pathways that have emerged because we are better informed. That in itself has been really exciting and stimulating. We are more of a team now than ever," said Mellott, who co-founded the Olathe-based biotech startup alongside fellow scientist Heather Decker in 2019.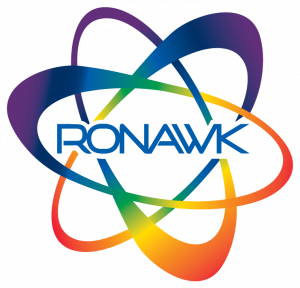 Ronawk recently announced the hire of two executive positions: Tom Jantsch as president and chief operating officer and Scott Leigh as chief revenue officer. 
Click here to read more about Ronawk, which was named one of Startland News' Startups to Watch in 2021.
For the first time, Ronawk's team can analyze their data and research from various perspectives, Mellott noted.
"Tom provides the boundaries by giving us the financial and resource information that we need to make decisions; Scott gives us the information from the customers of what they're responding to; and then Heather provides the scientific data," he explained. "With all three of those points combined, it's easier for us to focus and find the pathway to go forward and be successful."
With over 25 years of experience in startups, Jantsch was drawn to Ronawk's potential to make a significant contribution to the world of science, medicine and beyond, he shared. 
"Successful companies don't provide products; they provide solutions," Jantsch said in regard to Ronawk's state-of-the art technology, Tissue Blocks (T-Blocks) — which allow researchers to rapidly expand the growth of cells. "The ability to make enough cells is the single biggest roadblock in all of research right now. [T-Blocks] solve that problem."
As a veteran in the biotech world, Leigh has never seen a product that has excited scientists more than the T-Blocks, he said. 
"To put it in layman's terms, scientists do not get giddy. They get giddy about this," Leigh shared. "Scientists have been limited by the current perception of what can be done, and we are just exploding that opportunity open for them."
Although Jantsch and Leigh have backgrounds in business, that hasn't prevented them from stepping into the lab.
"So not only are they rockstars in their expertise, but both of them have that hands-on lab experience," Mellott noted. "It further binds us together because we see the whole process, which then makes everyone able to talk about the product, sell it and contribute ideas."
The team is advancing rapidly, Leigh added, noting that its members' united passion and shared values drive it forward.
"On a weekly basis, we're expanding into things that we thought were six months to a year down the road for us, so we're moving very quickly," Leigh said. 
Click here to read about Ronawk's international expansion.
The Bio-Block Universe
With two new products to be revealed in the coming months, Mellott teased, Ronawk recently announced it's Bio-Block Universe — a cell culture platform that accelerates the development of next-generation therapies. 
"Ronawk's Bio-Block Universe is the first expandable Bio Platform from which other bio applications, processes and technologies are developed," Mellott explained. "Ronawk's Bio-Block Universe accelerates time to result by eliminating the need for subculture in cell production which significantly decreases contamination risks while subsequently increasing cell yield."
T-Blocks, as well as the two new products, are each a component of the Bio-Block Universe — much like how a star or planet is part of our universe, he continued. 
"​​As we release more products, the Bio-Block Universe will get more expansive," Mellott noted. "… All the products work together, which is what makes the platform extremely versatile."
To mark this next chapter of growth, Ronawk released a new logo and branding to better represent its mission and core values, Mellott shared. The redesigned logo is a symbol of the limitless possibilities within science when the community comes together, he said. 
In 2022, the Ronawk team looks forward to interacting more with the Kansas City community, as long as it is safe to do so, the leadership team noted. 
"COVID pending, we would love the opportunity to invite community members from Kansas City and do an open house here at our facility," Mellott said. "It helps with networking, and it helps get more exposure on what we're doing."
"It only makes sense to engage with the community and get them excited about what's going on in their hometown," Jantsch added.
Those curious in learning more about Ronawk can click here to register for the startup's "Friends and Family" webinar on Thursday, Jan. 27 at 11 a.m. CT.

This story is possible thanks to support from the Ewing Marion Kauffman Foundation, a private, nonpartisan foundation that works together with communities in education and entrepreneurship to create uncommon solutions and empower people to shape their futures and be successful.
For more information, visit www.kauffman.org and connect at www.twitter.com/kauffmanfdn and www.facebook.com/kauffmanfdn