The teeth marks on Jasur Rakhimov's Apple Pencil aren't his own. They belong to his young daughter, Jasmira, who — despite a new protective pencil box — still loves to chew on the tools of his trade, he said.
"Everybody and everything has its own story," reflected Rakhimov, running his fingers across the indentions from her bites.
The name of the artist's consulting company, Sibukop Creative, shares that sentiment, he said. "Sibukop" is a nonsense word his daughter made up when she first began talking. Rakhimov doesn't know what it means — but, to him, it means something.
Such seemingly minute life details find their ways into his work too, captured with a fine point in sketchbooks or on his iPad. For Rakhimov — who not only chronicles his personal life through his stylized art, but also works with startups and other clients to visualize their messaging — it's about telling a clear and concise story that retains enough personality to be compelling.
"The content that I produce is really likable and shareable. And in today's social media world that's really important," he said. "With startups, one of the biggest problems they have is telling their story. Startups want to invent something new, and it can be really difficult for them to describe what they do."
Time traveling through watercolors
Born in 1985 in the Soviet Union, Rakhimov's style reflects his childhood amid post-Cold War upheaval in a diverse region, he said.
"Soviet Union was a country made of many small republics and you were exposed to many other people," Rakhimov said. "I remember when I was a kid, even though we lived in the territory of Uzbekistan, we spoke Uzbek, Russian, Tajik, and then since my father was an English teacher, we spoke a little bit of English."
Suddenly in 1991, the country he knew was no more, he said.
"When Soviet Union collapsed, the transition period was interesting," Rakhimov said. "I was about 7 years old and we didn't have any currency at some point. There were some big sheets of paper that no one knew how to use. These were called sum-coupons, like transition currency."
Even then, he channeled his experiences into sketches, he said.
"I always drew whatever was happening with me," Rakhimov said. "So when I was in school — I was a hothead and used to fight a lot — all of the fights and everything ended up in drawings. So there was something positive in that."
Filled with the stories of his life, the sketchbooks now serve as a time machine of sorts, he said. Pencil, pen and watercolors paint vivid portraits of moments past, with each purposeful stroke telling its own portion of the tale.
"You can surf through the bookshelf," he said. "I can go to my trip to St. Petersburg (Russia) where I visited my, at that time, future wife, and relive those moments. Everywhere I traveled ended up in sketchbooks."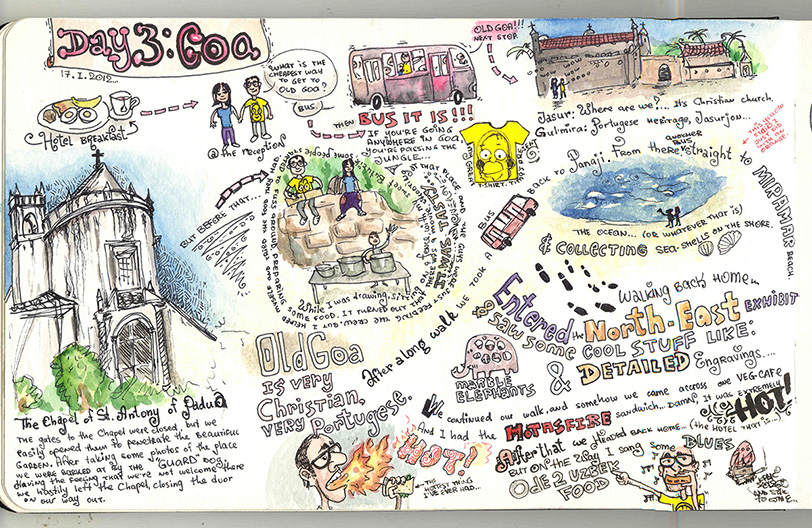 Illustrating a creative niche
After earning a bachelor's degree in English and German languages in Uzbekistan, Rakhimov arrived in the United States in 2011 to attend Park University. He ultimately graduated in December 2016 with an MBA in management information systems, international business and nonprofit leadership, he said.
He and his wife, Gulmira, have now made their home in Kansas City with their U.S.-born children, Jasmira and son Azam.
But the clock is ticking.
As an international student, his one year of optional practical training (OPT) — a time period where a graduate can stay in the United States if meeting strict employment requirements — soon comes to an end.
Rakhimov's options to stay: Obtain a work visa through a job in his field of study, go back to school or start his own profitable business.
He's chosen to attempt the latter — forming Sibukop Creative to capture a niche he discovered in Kansas City's startup and business community. While some of his work centers on custom caricatures and event illustrations for individuals, he also has jumped head-first into true commercial storytelling.
"The smaller the companies the better," Rakhimov said. "If you work for big companies, it takes forever for them to make decisions and you cannot just sit at the table with them, scribble something, ask them if they like the idea. They have to sit with a board and discuss. Startups give you more flexibility."
He found success this summer partnering with Techstars Kansas City as a design associate, he said.
"For me, it was a really good opportunity to be exposed to the Techstars network," Rakhimov said. "The job was visualizing stories of the 10 companies that were the cohort of this year's Techstars Kansas City. I think I brought value to them and definitely took a lot of value from this collaboration."
Through Techstars, Rakhimov illustrated name tags for nearly 100 mentors who helped the cohort, as well as designing other supplemental storytelling materials for such participants as Somatic Labs and Ampogee, he said. In one example, Rakhimov worked with the startup Hanzo to help communicate a new bitcoin token launch service.
"I didn't know anything about bitcoin before I talked to them. So I sat with them, listened to them for about a half an hour, and then I simplified this service that they offer," he said.
Such illustrations — done correctly — help to quickly and accurately communicate complex offerings with clients and potential investors, Rakhimov said. His work with businesses ranges from one-sheet handouts to fully illustrated presentations.
"If you talk to someone who doesn't completely understand what you do, these are really good simplifications without dumbing it down," he said.
Sticking to his style, storytelling
Kansas Citians might be familiar with Rakhimov's work through a popular sticker pack made for iMessage: KC Casey. The set, which allows iPhone users to illustrate their conversations with images of a KC-oriented character, launched in March.
But it wasn't his first — nor most successful — foray into the market.
Tashmurad, a Russian-language version of the sticker pack targeted to his native Uzbekistan, debuted a few years ago on the social media messaging platform Telegram, and amassed more than a half-million downloads, Rakhimov said.
"With Uzbekistan, it was fairly easy because it was a new thing there and everybody downloaded it," he said. "It was the only thing on the market for awhile, so it became a household name."
That viral notoriety from Tashmurad — as well as earlier work with a project called Uzbekistan Illustrated — helped Rakhimov gain attention with clients abroad, he said.
"It's not only that clients know the character, it's that they know people use the character," Rakhimov said.
An Uzbek-Chinese trading company was inspired to develop its own sticker pack with Rakhimov, he said. It also led to an on-going campaign with the non-profit Uz Water Aware, sponsored by the European Union, to bring water awareness through Rakhimov's illustrations.
Whatever the project, it has a distinctive Sibukop feel, he said.
"With my client work, I try to position myself by saying, 'Whatever you approach me with, it will have my style in it.' And people come to me knowing my style," Rakhimov said.
Today, about 95 percent of his work is done with his iPad an Apple Pencil, in large part because of the technology's portability and convenience of collaboration, he said.
"I feel bad that ever since I switched to it, I draw less on my sketchbooks," Rakhimov said. "Even my personal projects, sometimes it's easier for me to draw on my iPad. But I still want to keep that real feel of a sketchbook and watercolors."
Jasmira and Azam continue to inspire Rakhimov. A sketchbook documenting their young lives features illustrations of the children's first toys and books, special memories, personality traits and eating habits. The pages are littered with scribbles by Jasmira.
Those imperfections too are part of the story, he said.
"Anytime she had a pen, she would draw on my hand. So I drew my hand in the sketchbook, and told her, 'Please draw on it.' So this way we have that daddy-daughter collaboration," Rakhimov said.