Education innovation is a growing industry in Kansas City. Leaders say it has grown tremendously within the past two years and will eventually impact the region's talent pipeline.
One of the metro's trailblazing programs is Blue Valley Center for Advanced Professional Studies, CAPS. The program began in the Blue Valley School District in 2009 as a district-wide high school program that offers college credit to juniors and seniors, accelerating students' knowledge on various careers by using industry-standard tools and mentorship from employers.
Kansas City is now home to Northland CAPS, Southland CAPS and Center CAPS, serving about 4,000 students per year in Kansas and Missouri.
Since its launch, CAPS created a national consortium in 2015, banding schools together across the U.S., boosting its innovative education model. With programs in Kansas, Missouri, Nebraska, Iowa, Minnesota, Arkansas, Wisconsin, Utah, Texas and Arizona, the CAPS network currently spans across 10 states and 60 school districts.
Startland rounded up three Kansas City-area CAPS graduates to hear their perspectives on entering the workforce.
Grant Herrman 

Age: 23
CAPS graduation year: 2012
Occupation: Electrical engineer at Burns & McDonnell 
After graduating from Iowa State University, Herrman said, the transition to adulthood was stressful. Yet if not for CAPS, he would have been "shell-shocked." 
"CAPS helped me figure out not just that I wanted to do engineering, but exactly what strain of engineering to go into," he said. "They also connected us with people in the industry who I was able to job shadow."
Herrman interned at Burns & McDonnell for four summers before accepting a job at the firm. Access to industry professionals at CAPS helped land him the opportunity, he said.
"My internship experience definitely put me on their radars. I pretty much knew I wanted to work at Burns & McDonnell," Herrman said. "I felt very well equipped."
The real world has so many potential job options that school couldn't possibly cover everything, he said.
"One thing that I really like that I don't think people stress enough about CAPS is that they do a really good job of combining disciplines," Herrman said. "It gave me the opportunity to work not only with design, but with hands-on creation and implementation, which college doesn't really give you."
At Burns & McDonnell, Herrman enjoys mentoring interns and new hires, he said. He hopes to someday return to CAPS and give back, offering teaching or mentorship.
Jenna Felsen 

Age: 20
CAPS graduation year: 2016
Occupation: UMKC student, program manager at YepKC
A former digital design and photography CAPS student, Felsen has completed more internships than the average 20-year-old.
A sophomore at the University of Missouri-Kansas City, Felsen currently manages YepKC — a summer program connecting high school students to high-growth Kansas City startups offering internships. Felsen previously interned at Scott Rice Office Works and Garmin.
"Some of my designs are actually featured on Garmin's Forerunner 235 fitness watch," Felsen said. "That was pretty amazing."
Felsen grew acquainted with these opportunities through the CAPS network, she said. Studying business, marketing and finance at school, she is eager for the next steps of adult life.
"In school, the projects that you do are only to get a grade, it's not a real life thing," Felseen said. "But when you're working in a business, the products and projects that you work on actually make a difference. I like making a difference."
Felsen is thankful for the CAPS program, she said, which felt more like "fun" than school.
"I feel like I had a lot of experiences that a lot of kids my age haven't gotten to experience and sometimes I almost feel over-prepared," Felsen said. "Sometimes it's hard to connect the relationship between school and a real world job because they are so different. … I would tell other students to take advantage of every opportunity given to them." 
Zach Block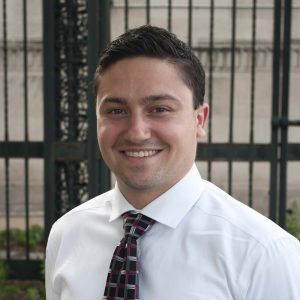 Age: 24
CAPS graduation year: 2011
Occupation: Resident Prosthetist-Orthotist at Hanger Clinic
A member of the inaugural Blue Valley CAPS class before the current building was built, Block's civil engineering class took place in a conference room at Black & Veatch's headquarters.
"It's just more of a professional environment than what a high schooler is typically used to. It was a pretty interesting experience," Block said. "After lunch and before CAPS, I had to change into business professional clothing before heading to Black & Veatch."
It initially took a little convincing from his parents to sign up for the program, Block said, but he was glad he did.
"As a high school student, I had some resistance, but I ended up enjoying every minute of it," Block said. "I think, for me, it was kind of seeing the type of jobs out there and what they really do, and having the hands on experience with working professionals. That's a big thing that drove me in my current career path."
As an undergraduate, Block attended the University of Illinois and earned a master's degree from Northwestern University.
Happy to be home in Kansas City, Block added that that being given responsibility and freedom while in high school made him feel equipped to succeed in the job market.